CEO / President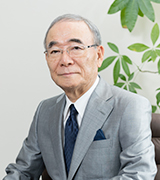 Since we were founded in 1974, we have researched, developed and manufactured functional health foods with our vision, "Harmony of Human Beings and Mother Nature".
As the criteria of the safety and quality of food have recently become stricter and stricter, we have also realised the importance of our policy for the quality of our products, "the pursuit of security and safety from consumers' point of view".
Currently, we supply 8 products including our 2 main products, Fermented Vegetable Extract "BIOZYME" which has been sold since our foundation, and Fermented Soybean Extract "NSK-SD", which contains plenty of nattokinase.
We are the first company that introduced nattokinase which is a functional enzyme found in natto, Japanese traditional fermented soybeans, to the market in 1998. Ever since, nattokinase has received more and more attention from all over the world and its demand has grown remarkably. This is because, I reckon, as the Japanese population is ageing, people seek longer, healthier life and they view this product as the food material that helps them gain such life.
We aim to understand the precise needs of contemporary society and to provide truly demanded, unique products for people. Therefore, we strive to further our research and development and to contribute to society through any and every industry.
CEO / President
Kenichiro Azuma



Head of Kyushu Research Center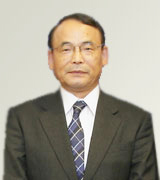 I am Dr. Mitsuhiro Ota, Head of Kyushu Research Center and Special Advisor at Japan Bio Science Laboratory.
I have been studying the functionalities and evaluation methods to identify counterfeits of "Nattokinase" that prevents thrombosis which causes myocardial infarction or cerebral infarction and "Ashitaba Polyphenol: Chalcone" that prevents and improves obesity which is the primary cause of lifestyle diseases.
To stay healthy has become more and more important as Japan's population has been aging. Accordingly, it has become significantly important to test the efficacy of health foods more than ever.
I am going to put more effort into finding new functional ingredients and testing the efficacy. Thank you for your great support in advance.
Special Advisor, Head of Kyushu Research Center
Mitsuhiro Ota, PhD
CAREER

1977: Completed a postgraduate course at Graduate School and Faculty of Pharmaceutical Sciences at Kyoto University in 1977 (PhD in Pharmacy)

April, 2000- March, 2013: Became a professor of Medical Biochemistry at Kobe Pharmaceutical University

April, 2007 – March, 2013: Became vice president of the university

April, 2013 – March, 2016: Became a specially-appointed professor at the university

Currently work at Research Institute for Production Development, Biomarker Laboratory