Rich in Peptides of Enzymes and Many Other Useful Substances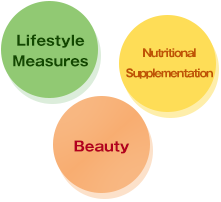 The cells which compose a human body keep the body functioning by making hundreds of millions of chemical reactions happen constantly. "Enzymes" help the chemical reaction happen and enable cells to carry out their work properly, which makes us capable of keeping our bodies healthy.
Because of aging or unbalanced dietary habits, however, our bodies' productive ability of enzymes deteriorates. Therefore, we need to eat foods that contain abundant amounts of enzymes such as fermented foods. And yet, it takes some time to absorb the high molecular compounds such as enzymes. Also they are prone to heat and acid. However, we have succeeded in overcoming these weak points and developed a fermented vegetable extract called "BIOZYME" which abundantly contains amino acids and peptides that have been decomposed from enzymes (proteins) as well as other useful substances, using our original fermentation technology.
How to Produce Fermented Vegetable Extract, BIOZYME

Our original fermentation technology

Our original fermentation technology has made it possible for BIOZYME to contain plenty of useful components.

It is cultured for 3-4 months at a suitable temperature to help produce the useful components by maximising the harmony with our original culture medium made mainly from plants. It becomes lower-molecular and, therefore, easier to absorb by maturing it for another 3-4 months at a low temperature.

We proudly produce this product by taking as much as over 6 months.

1.Screening of Bacteria

We screen our original bacteria "Bacillus sp. BIOZYME" which has an excellent productive ability of biologically active substances such as polysaccharide.

2.Inoculation of Inocula

We ferment our original culture medium, that is composed of natural materials such as various kinds of vegetables, malted rice, seaweed, yeast extract and vegetable minerals, with Bacillus sp. BIOZYME.

3.Long Term Culture

We culture it at 30 ℃ for 3-4 months during which enzymes, polysaccharide and vitamins accumulate abundantly.

4.Long Term Maturation

We mature it at about 15℃ for another 3-4 months during which enzymes and polysaccharide become peptides and oligosaccharide, respectively.

5.Filtration

We filter the extract, which has taken over half a year to prepare, and remove fungus bodies and residues.

6.Productisation

We adjust the flavour with sugar and acid, followed by packaging as drink and paste products. We have strict quality inspections before productising them.

Our Original Culture Medium

We produce BIOZYME with a culture medium composed of carefully screened plant materials which are more than 40 kinds of vegetables, fruits and seaweed. The culture medium was carefully decided in order to promote the fermentation of Bacillus sp. BIOZYME.

Over 40 Kinds of Plant Materials

Fruits and Vegetables:capsicums, tomatoes, pumpkins, cauliflowers, broccoli, green beans, etc.

Leaf Vegetables:Ashitaba, cabbage, kale, mulukhiya、lettuce, spinach, brassica pekinensis, etc.

Stem Vegetables:asparagus, onions, green beans, celery, etc.

Root Vegetables:burdocks, white radishes, carrots, beets, purple sweet potatoes, etc.

Herbs:parsley, cress, ginger, etc.

Crops and Nuts:maize, rice, sesame, etc.

Fruit and Seaweedlemons and kelp

Others:brown sugar, mineral salt and yeast extract
Features

Low calories

BIOZYME contains virtually no sugar and, thus, is low in calories unlike other fermented extracts produced by using an osmotic pressure of sugar.

Abundant useful components

Amino Acid

・Arginine
・Tyrosine
・Valine
・Glutamic acid

・Lysine
・Leucine
・Alanine
・Serine

・Histidine
・Isoleucine
・Glycine
・Threonine

・Phenylalanine
・Methionine
・Proline
・Aspartic acid

Vitamins

Minerals

etc.

Safety

We carry out quality inspection of the materials at each step from preparation to culture, to maturation, to productisation with our strict standard.
Efficacy

・Promotion of Alcohol Metabolism

Reduction in blood alcohol concentration and blood aldehyde concentration (clinical study)
Reduction in breath alcohol concentration (clinical study)
Damping effect of aldehyde on acute toxicity (animal test)

・Improvement in bowel movement as well as skin conditions

・Tyrosinase activity inhibition

・Promotion of calcium absorption
Specification

BIOZYME Product Specifications

Fermented Vegetable ExtractBIOZYME ConcentratedA paste product made by concentrating Fermented Vegetable Extract BIOZYME at a low temperature under a reduced pressure produced by long term fermentation and maturation of strictly screened plant materials with Bacillus sp. BIOZYME.

Property:

dark-reddish brown in colour and viscous with unique odour

Fermented Vegetable ExtractBIOZYME MC PowderA powder product which is made by multicoating Fermented Vegetable Extract BIOZYME Concentrated after freeze-drying it. This is suitable to be applied to handy tablets.

Property:

dark-reddish brown to light brown powder with unique odour
Application and Blending Examples

Primary Application
Our Products

BIOZYME R

Recommended for people who want to stay healthy and women who want to stay beautiful.

Based upon years of bioresearch, we carefully make this product, taking approximately 6 months from fermentation to maturation using closely examined materials in a modern, hygienic factory.

This product is recommended for those who want to stay healthy or women who want to stay beautiful and healthy. This has a mild and smooth taste. Take this as one of your healthy everyday habits.

Nokoran

Plant enzyme drink which provides "energy for tomorrow"

We have blended a bio extract made of 40 kinds of carefully screened plant materials which have been fermented using useful bacteria and matured at a low temperature. Furthermore, we have added cysteine peptide and vitamins B1, B2 and B6 as well as prune extract and herb flavour to make it pleasant to drink.