We have found limonoids, active ingredients contained in kabosu seeds.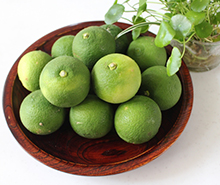 We established Kyushu Factory in Kunisaki-city, Oita in 1996 and have developed new products which help enhance the relationship with local communities.
We, specifically, focused on the efficacy of "kabosu", most of which in Japan is produced in Oita, and we have studied and developed it in industry-academia-government collaboration with Oita University and, eventually, succeeded in the production of "Kaboseed EX".
This is a new functional material which is expected to prevent liver dysfunction.
Features

Features of Kaboseed EX

Kabosu is one of the citrus fruits and consumed primarily as food. It was used for cosmetics and medicine between the Edo period and the Second World War. The results of recent studies have shown that kabosu has many effects such as a preventative effect on liver dysfunction, an inhibitory effect on an increase in cholesterol levels and an inhibitory effect on liver fat accumulation.

Kaboseed EX is a functional material made of powderised limonoids (deacetylnomilin, limonin and ichangensin) which are the functional ingredients extracted from kabosu.
Efficacy

・Preventative Effect of Limonoids on liver dysfunction

We conducted a study using rats with D-galactosamine-induced liver failure to test the preventative effect of kabosu seed extract on liver dysfunction. The result showed that an inhibitory effect on increases in serum ALT as well as AST of the rats fed on kabosu seed extract was observed.

As a result of search for the functional ingredients, we have found that three types of limonoids (deacetylnomilin, limonin and ichangensin) were responsible for the effect.

Effect of Kabosu Seed Extract on Serum ALT

Satoshi Mochizuki, Miki Umeki, Masazumi Hirose, Yosuke Matsuo, Takashi Tanak and Kou Kono. (2011). Effect of Kabosu seeds on rats with D-galactosamine-induced liver failure. Japan Society for Bioscience, Biotechnology, and Agrochemistry.
*partially modified

Patent

This shows that kabosu seed extract has a preventative effect and a mitigating effect on hepatic disorder and hepatitis.
Specifications

Specifications of Kaboseed EX

Kaboseed EXPowder product made of spray-dried limonoids
which are extracted from kabosu seeds.

Property:

Light yellow/light greenish yellow powder with bitterness

Specification:

Limonoid content: 2.0%+
Primary Application & Blending Examples

Primary Application